20 Hours of Professional Instruction




100,000
Students Expertly
Trained

BEHIND-THE-WHEEL 20 HOURS
The Behind-the-Wheel 20 Plus Drive Test program is the ultimate in Behind-the-Wheel Training. Whether you have a busy life schedule, or just need the guidance of a professional driving instructor, 20 hours of Behind-the-Wheel training not only prepares students to be safe drivers, it also meets driving log requirements to qualify for a Drivers License. Every driving lesson is personalized to the needs of the student. As students gain experience and confidence, our highly trained, state-certified instructors add speed and complexity to the lessons and give students the opportunity to practice in a variety of driving environments. Eliminate the stress of the drivers education experience, and let DriveSafe's experts cultivate a lifetime of safe driving habits.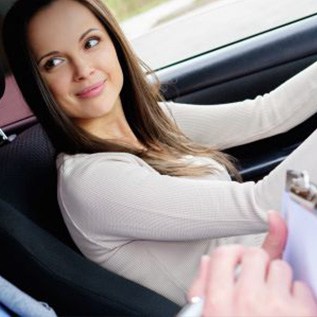 Leslie P, Highlands Ranch

Giving us a timely appointments even though I know they're super busy because of the covid outbreak. Also the instructors are very clear with my child and also very friendly and approachable by letting them know exactly what they need to work on and what the rules are.
I really loved that we worked on the things that I wanted to work on. This was an issue I had at my other driving school, so it was amazing to drive on busy roads and the highway. He did an amazing job of pushing me out of my comfort zone and teaching so many techniques. Overall, it was an amazing lesson and experience.
My daughter enjoyed all her driving experiences and learned so much in the classes!
My son's first driving experience with an instructor had him really nervous, but DriveSafe Wheat Ridge was kind, reassuring and supportive! He is looking forward to his next lesson!
The driving instructor was very clear and helpful with his tips and explanations. I did not feel berated because I was being given constructive criticism that I could understand.
Tara V, Littleton/Lakewood

Awesome driving teacher and my son enjoyed the information she shared and the tips she gave him as well. Professional and friendly- we would recommend for sure!
Johnny K, Highlands Ranch

Just a great experience all around. My son had a great instructor fir his last drive out of this location and the test today was hassle free. My experience has been great and worth what we spent.
Debra P, Littleton/Lakewood

This was an easy process, good instruction and worth the price. Even with the challenges of 2020 and the pandemic, our daughter is right on track to get her license and be a great/safe driver.
Very compassionate and patient. The instructor explained exactly what was to be expected before my son even got into the car. This was a great experience for my kiddo who has anxiety.
Examiner was friendly and professional. The whole process was easy and painless.
Charles N, Highlands Ranch

It was great to have my daughter learn the right way to drive. I have sent my 2 kids to DriveSafe, and I am very happy I did!
I am confident that they are preparing my teen to be a safe driver!
Kelly C, Greenwood Village

DriveSafe has been a very easy, hassle free experience thus far. There is always a knowledgeable English speaking human available over the phone to answer all questions or simply schedule appointments. Our child had her initial drive last night and the instructor could not have been more helpful and friendly. DriveSafe schedules driving 7 days a week, day and night, so there is plenty of availability to choose from. It's nice to work with others that enjoy their jobs and assisting our young individuals in navigating this world.
It was my first comfortable experience driving outside of my comfort zone! The instructor was extremely kind and understanding while pushing me to do more than I thought I could!
The gentleman who tested my daughter was kind, and really put my daughter at ease. She passed, and came back so happy that he was kind and easily approachable. She was having a lot of anxiety and he put her nerves to ease.
Before our 1:1 lesson my daughter had a true fear of driving. She drove for 2 hours, and the instructor gave her the confidence she needed to get behind the wheel more often.
The instructor was amazing and made my daughter feel so comfortable. She even talked about how much she loves her job. Doesn't get better than that!
Parent, Greenwood Village

"My daughter was very afraid to drive, but once she had a lesson with her instructor it made all the difference! She gave her easy strategies to boost her skills and her confidence."
We had an awesome, friendly, and kind instructor who was very understanding with the language barrier. Made the experience a lot better than we were expecting. Highly satisfied.
My son's driving lesson experience was so encouraging to him that he can't wait for another driving lesson! He started out very nervous and walked away very confident. It accomplished exactly what we hoped, in building up his skills and his confidence in driving on roads. Everyone we have met and talked to in the Louisville office has been so helpful, friendly and personable, it's been a real delight working and talking with them.
READY TO START YOUR DRIVERS EDUCATION?