It is Never Too Late to Learn to Drive Safe!




100,000
Students Expertly
Trained

BEHIND-THE-WHEEL PROGRAMS
All driving lessons are one-on-one with highly trained, state-certified instructors.
Recommended

99.2% of our students recommend DriveSafe

BEHIND-THE-WHEEL
SIX
BEHIND-THE-WHEEL
SIX PLUS DRIVE TEST
BEHIND-THE-WHEEL
10 HOURS
BEHIND-THE-WHEEL
20 HOURS
$424
$499
$679
$1349

Six Hours of Behind-the-Wheel Instruction

Drivers License Test

4 Additional Hours of Driving Lessons

14 Additional Hours of Driving Lessons

Behind-the-Wheel Progress Tracker

DriveSafe for Life Guarantee™

PRACTICE DRIVE TEST

SAFETY EVALUATION

ONE HOUR SPECIAL FOCUS DRIVE

TWO-HOUR DRIVING LESSON

OTHER BEHIND-THE-WHEEL OPTIONS

$65
$229
$89
$159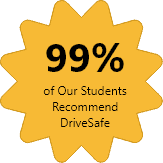 Behind-the-Wheel Six

$424

Six Hours of Behind-the-Wheel Instruction

Behind-the-Wheel Progress Tracker

DriveSafe for Life Guarantee™
Behind-the-Wheel Six Plus Drive Test

$499

Six Hours of Behind-the-Wheel Instruction

Drivers License Test

Behind-the-Wheel Progress Tracker

DriveSafe for Life Guarantee™
Recommended


Behind-the-Wheel 10 Hours
$679

Six Hours of Behind-the-Wheel Instruction

4 Additional Hours of Driving Lessons

Behind-the-Wheel Progress Tracker

DriveSafe for Life Guarantee™
Behind-the-Wheel 20 Hours

$1349

Six Hours of Behind-the-Wheel Instruction

14 Additional Hours of Driving Lessons

Behind-the-Wheel Progress Tracker

DriveSafe for Life Guarantee™
The instructor was amazing and made my daughter feel so comfortable. She even talked about how much she loves her job. Doesn't get better than that!
I really loved that we worked on the things that I wanted to work on. This was an issue I had at my other driving school, so it was amazing to drive on busy roads and the highway. He did an amazing job of pushing me out of my comfort zone and teaching so many techniques. Overall, it was an amazing lesson and experience.
Very good experience. Trainers are experienced and polite. Provided comfortable and calm learning experience.
The instructors have all been amazing. The communication from DriveSafe during this interesting time with Covid has been great. When we arrived for my daughter's last 2 hour drive, they instructor met us outside, was friendly and my daughter had a lot of fun on her drive. Great experience every time! We are very pleased and will enroll our son at the end of this year or beginning of 2021.
Jacob W, Littleton/Lakewood

DMV was so slow in processing our son's driver license application that we got down to two days before he was supposed to move to college and then they told us he needed to do a drive test. We called DriveSafe and they got him scheduled for the following day. They were very nice and helpful, he passed, and now he's off to his college adventure. Thanks DriveSafe!
Very compassionate and patient. The instructor explained exactly what was to be expected before my son even got into the car. This was a great experience for my kiddo who has anxiety.
The instructor was friendly, energetic, easy-going yet very firm and mindful about road rules. My son enjoyed his 2-hour drive!
Our son doesn't like many activities outside of his comfort zone. This was his first day driving and the instructor made him feel confident and empowered. He got him to laugh.
"Very comfortable. Easy to understand. Also walked me through my mistakes and how to avoid them. I felt like I was driving with a friend, no nerves or frustrations. Fun route as well."
Kristin A, Littleton/Lakewood

We have had a great experience with both of my sons.
"The enrollment was smooth, and sessions were scheduled at MY earliest convenience. The instructor does everything to teach not just basic driving but essential tips of the road. My sincerest gratitude to my driving instructor and DriveSafe."
The instructor was very detailed and thorough. I appreciated that he told my daughter what she did well along with a couple of things for her to work on.
It was a great class that my son was able to take online. All of the in-person driving lessons were taught by professional people who were able to relate to my teenager.
We had an awesome, friendly, and kind instructor who was very understanding with the language barrier. Made the experience a lot better than we were expecting. Highly satisfied.
My kids were extremely anxious and were pleased with how everything went. They look forward to hitting the streets with more confidence.
It was my first comfortable experience driving outside of my comfort zone! The instructor was extremely kind and understanding while pushing me to do more than I thought I could!
"The instructor made my daughter feel welcomed and encouraged her not to be nervous and to do her very best. Thank you for helping my daughter achieve her goal of becoming a licensed driver. You are the best!"
Everything was easy. Communication, scheduling, rescheduling. The lessons were great – my daughter learned a lot! A very good experience!
Mitchell F, Littleton/Lakewood

The ease with the staff as a parent to navigate through this process. Also, the instructors make my daughter feel very comfortable.
My instructor was patient, clear, and very kind. He gave me very helpful tips on the road during my two hour lesson and assisted me to become a more confident driver. I will most definitely recommend this company to my friends and family!
Leslie P, Highlands Ranch

Giving us a timely appointments even though I know they're super busy because of the covid outbreak. Also the instructors are very clear with my child and also very friendly and approachable by letting them know exactly what they need to work on and what the rules are.
My son's first driving experience with an instructor had him really nervous, but DriveSafe Wheat Ridge was kind, reassuring and supportive! He is looking forward to his next lesson!
Examiner was friendly and professional. The whole process was easy and painless.
Kaitlyn A, Highlands Ranch

I learned a lot and am ready to be a responsible driver!
Tiffany, Greenwood Village

Not only was my driving instructor helpful, but I had an important driving related question, and the manager who was at the front desk took the time to be extremely helpful and thorough as well. Both of them were so kind and professional.
Parent, Greenwood Village

"My daughter was very afraid to drive, but once she had a lesson with her instructor it made all the difference! She gave her easy strategies to boost her skills and her confidence."
Driving instructor did an amazing job. Above and beyond. Exceeded my expectations and made my son's driving experience exceptional!
"My son has enjoyed both of his driving instructors so much. He's not the type to speak up like this, but he said both instructors made him feel comfortable while teaching him so much. He gained much confidence. He said the classroom teacher was great as well!"
Charles N, Highlands Ranch

It was great to have my daughter learn the right way to drive. I have sent my 2 kids to DriveSafe, and I am very happy I did!
Debra P, Littleton/Lakewood

This was an easy process, good instruction and worth the price. Even with the challenges of 2020 and the pandemic, our daughter is right on track to get her license and be a great/safe driver.
"I feel so much more comfortable behind the wheel. I also have become less afraid and have come to realize that drivers on the road have every right to take it safe and slow."
"My instructor has been so patient and supportive and encouraging. I am very thankful for him. I passed the drive test today! And he is so awesome and so kind. So, I just wanted to let you know how amazing he is."
The staff are friendly, welcoming, and patient to their students. I could tell that they were not only there for work but truly had a passion to help students learn how to drive safely.
Before our 1:1 lesson my daughter had a true fear of driving. She drove for 2 hours, and the instructor gave her the confidence she needed to get behind the wheel more often.
I am confident that they are preparing my teen to be a safe driver!
The driving instructor was very clear and helpful with his tips and explanations. I did not feel berated because I was being given constructive criticism that I could understand.

The DriveSafe for Life System™ - An instructional method that focuses on building confidence and teaching safe driving habits in a positive and encouraging manner.

One-on-one driving lessons that are tailored to the needs of each individual student and designed to build a foundation of safe driving habits.

Highly trained, state-certified instructors who are passionate about helping students develop the skills to be safe drivers for life.

The Behind-the-Wheel Progress Tracker™, a convenient online tool that enables students to check progress in the ten key skills required to be a safe driver.

The DriveSafe for Life Guarantee™, which enables students to schedule a meeting with a driving instructor at any time, for any reason, forever.

Student Portal, which gives families the convenience of scheduling classes and driving lessons online.