Plus Drive Test
Meets Requirements for Behind-the-Wheel
Instruction and Includes Your License Test




100,000
Students Expertly
Trained

BEHIND-THE-WHEEL SIX PLUS DRIVE TEST
The Behind-the-Wheel Six Plus Drive Test program is an easy and convenient way to meet state requirements for your behind-the-wheel lessons and official license test. During one-on-one lessons, your highly trained, state-certified instructor will use the DriveSafe for Life System™ to help you develop the 10 key skills required to be a safe driver in a positive, supportive environment. As your skills improve, your instructors will add speed and complexity to your lessons. Lessons are available seven days a week, and scheduling them is easy. Once you have held your permit for a full 12 months, you will ease the stress of your official license test by taking it at DriveSafe. Upgrade to the Behind-the-Wheel Safe Driver program to learn potentially life-saving skills at our five-hour Defensive Skills Day, and Save!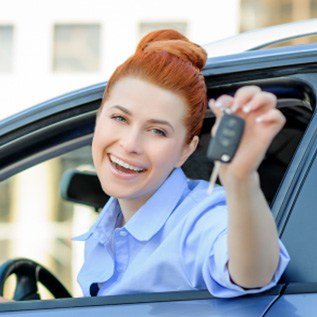 We were extremely satisfied with DriveSafe. The way that things were handled with a pandemic happening was smooth and well orchestrated. All instructors were cautious with what was needed to keep all the students and employees safe. The instructors gave our son the confidence he needed to be successful.
My daughter rode with Paul today. She was very nervous about the drive and he helped her settle down quickly and have a good experience. Your entire staff is wonderful and we've had a great experience with every part of the process.
We are on our third teen going through your driving school courses and have been so impressed each time. Even during the Covid Pandemic, my daughter has been able to complete everything online and the communication and ease of scheduling is great. Thank you
Jacqueline, Greenwood Village

This is quality service that is second to none. Again thank you for the outstanding service and providing quality programs for better and safe driving skills for our children.
Larry was great! He made Amanda feel very comfortable and provided her some great feedback!
Mitchell, Wheat Ridge/Arvada

Thanks guys for helping me become a better driver!
Kyle was friendly, informative, as well as very encouraging as he talked to our daughter about her last 2 hour drive, prior to her driving test.
Love the friendly staff and ease of making appointments. My daughter has had Larry Soady as a driver instructor twice and he is so patient and kind. So glad that you opened back up and she can take her driving test tomorrow since her birthday passed already in April.
The instructors have all been amazing. The communication from DriveSafe during this interesting time with Covid has been great. When we arrived for my daughter's last 2 hour drive, they instructor met us outside, was friendly and my daughter had a lot of fun on her drive. Great experience every time! We are very pleased and will enroll our son at the end of this year or beginning of 2021.
During the COVID 19 shut down, Drive Safe was very communicative. Instead of me having to hunt down information, I received detailed emails and phone calls regarding the re-scheduling of activities. The agents on the phone showed empathy and a deep desire to help.
Kristin A, Littleton/Lakewood

We have had a great experience with both of my sons.
The instructor was amazing and made my daughter feel so comfortable. She even talked about how much she loves her job. Doesn't get better than that!
Robert H, Highlands Ranch

During the Covid-19 situation our child was able to take her class online and be ready for her permit test.
Leslie P, Highlands Ranch

Giving us a timely appointments even though I know they're super busy because of the covid outbreak. Also the instructors are very clear with my child and also very friendly and approachable by letting them know exactly what they need to work on and what the rules are.
My instructor was very nice and friendly. he was also a great teacher.
Tiffany, Greenwood Village

Not only was my driving instructor helpful, but I had an important driving related question, and the manager who was at the front desk took the time to be extremely helpful and thorough as well. Both of them were so kind and professional.
My instructor was patient, clear, and very kind. He gave me very helpful tips on the road during my two hour lesson and assisted me to become a more confident driver. I will most definitely recommend this company to my friends and family!
Heather A, Littleton/Lakewood

My son found Isaiah to be very helpful and he was comfortable with him.
They did well at engaging all the students at once. They made it fun and I had a good time.
My instructors did well, I would definitely want to come back and do this again.
The instructors were very helpful and patient.
I liked that the instructors gave positive feedback and also their little tips and tricks.
I enjoyed the obstacle course because it involved many different skills…
The instructors today were awesome and very supportive in everything they did with us.
I loved the skidding and the driving backwards. It was also really fun to do the obstacle course.
The instructors did well teaching me to be a more confident driver.
I thought all the instructors did a very good job throughout the course of the day. They were all very informative, explained everything well, and I learned a lot at each station. My favorite part of the class was the skid course and the obstacle course, because both were really fun as well as good to know/use for the future.
My daughter attended the Defensive Skills Day and it went well. I got to ride with her at the end when I returned, and I have to admit, I was very shocked at how much she improved! She drove me through the timed obstacle course and her skill level blew me away. She said she has much more confidence in driving now. This course is very well worth the money and I highly recommend it to all parents.
Excellent customer service over the phone!!!
Jeremy J, Highlands Ranch

Great experience. Drive test was cancelled due to COVID, was able to get in VERY quickly to complete as soon as DriveSafe could reopen.
I enjoyed the class. It was interactive and I had the ability to go back and review. It was easy to maneuver and I liked the pace.
I enjoyed the course. I enjoyed that you can go at your own pace and never have to leave the house. No weaknesses.
I liked how you could use it with the iPad. The course is easy to take and is divided into smaller chunks so that you can take it one part at a time.
Maya D., Student, Evergreen

The customer support via phone call was outstanding, and the staff did a wonderful job of answering any questions I or my family may have had. It was a beneficial experience.
The online class, I feel, did an excellent job of teaching me the required skills for driving. The class was easy to follow yet challenging enough for me to learn new things. The online class was, in my opinion, great in teaching me to drive.
In comparison to the one my son took beDrivingAmerica was a lot better. My daughter enjoyed and really understood this more. Very great online class. I would recommend this to anyone.
I felt that the course provided a lot of material to help me understand driving better.
I liked the course. It taught me things I've never heard of like the IPDE process. Some strengths are they go in to good detail when explaining things. The chapter quizzes were good too because it keeps your mind refreshed about what you just learned. There wasn't really any bad things. I think over all it's a really good course.
Beckett, Greenwood Village

The commentators and the overall welcoming atmosphere of the course was nice. Also the layout is easy to use. I recommend this course.
Really liked the course. Strengths: the way it was presented made it really interesting. I learned alot. NO WEAKNESSES.
I really enjoyed the course. I felt like it was very easy to go through all the chapters, videos, pages, etc. I thought the review was really helpful at the end of each chapter.
"The course was quite enjoyable. One of my favorite parts of the course was that I could complete it at my own pace at home. This required me to be responsible in completing the course and retaining the information, which I liked. The tests after every chapter also helped in the retention of information…"
"We utilized your DriveSafe training program for eight of our teachers so that they could drive our new 15 passenger van. The feedback about the program was quite positive. We would definitely use your services again!"
"DriveSafe Driving School was a great experience from setting up the training, customizing to our needs, to affordability and the actual bus training. They accommodated our every need and made all the effort to make our teachers comfortable driving our buses. They came to us which made the whole experience seamless. Thank you for making our experience easy and we will absolutely be using DriveSafe Driving Schools for all our bus training."
"In order to enhance the safety training of our staff, we contacted DriveSafe to provide an upgrade on their driving abilities. The session consisted of classroom and in-vehicle time. Our instructor, Ken, made the classroom session enjoyable and easy to sit through, which was much appreciated and refreshing as the classroom sessions are typically dry and uninteresting. The in-vehicle session was a great reminder of the how we can all end up with some bad habits and how to correct them. We will definitely use DriveSafe again for training as the need arises."
"The staff was very courteous, patient, and helpful during the driving training."
"Just wanted to thank you so much for your expert driving instruction for my son. He learned so much from you (and so did I!). And he enjoyed driving with you very much! I now have a son driving on his own and feeling confident in his abilities thanks to you! We appreciate you!"
"The instructor has been informative, patient and professional in all aspects. The staff exhibits an attitude towards helping the student and family succeed in this program. They have the customer foremost in their mind. Thanks to all of them for making this process seamless."
"The instructor made my daughter feel welcomed and encouraged her not to be nervous and to do her very best. Thank you for helping my daughter achieve her goal of becoming a licensed driver. You are the best!"
"Very comfortable. Easy to understand. Also walked me through my mistakes and how to avoid them. I felt like I was driving with a friend, no nerves or frustrations. Fun route as well."
"My instructor has been so patient and supportive and encouraging. I am very thankful for him. I passed the drive test today! And he is so awesome and so kind. So, I just wanted to let you know how amazing he is."
"Great service and overall experience! I feel much more comfortable on the road and they really try to get you to try new things so that you will be prepared when you're on the road alone. Definitely go to DriveSafe!"
"I had a wonderful experience with your program. I was impressed by the professionalism of your program and of your staff. My instructor was marvelous in guiding me to get a driver's license. His calm and professional demeanor made this possible for me!"
"My son has enjoyed both of his driving instructors so much. He's not the type to speak up like this, but he said both instructors made him feel comfortable while teaching him so much. He gained much confidence. He said the classroom teacher was great as well!"
"The enrollment was smooth, and sessions were scheduled at MY earliest convenience. The instructor does everything to teach not just basic driving but essential tips of the road. My sincerest gratitude to my driving instructor and DriveSafe."
"I feel so much more comfortable behind the wheel. I also have become less afraid and have come to realize that drivers on the road have every right to take it safe and slow."
"The instructors really tried to help me. They always made sure that we knew what was going on and if we didn't understand something they took the time to explain it."
"The SE Aurora team is a heaven sent life saver. I was pulling my hair out before I talked to them. I want to say thank you for all of your help you gave me today."
"Thank you for enrolling me in your Drive Safe School at Westminster. I am so happy. You have an office with staff that create and bring warm yet very professional environment to the customer, and it makes me feel comfortable and focused to complete the written test."
"My classroom teacher was amazing! She built up my confidence and showed me practical use of what I learned in the classes. My instructor was great and challenged me to master the skills."
Parent, Greenwood Village

"My daughter was very afraid to drive, but once she had a lesson with her instructor it made all the difference! She gave her easy strategies to boost her skills and her confidence."
READY TO START YOUR DRIVERS EDUCATION?