Driving Lessons for Teenagers
Behind-the-Wheel Training
with State-Certified Instructors




100,000
Students Expertly
Trained

BEHIND-THE-WHEEL TRAINING PROGRAMS
All of our driving lessons are conducted one-on-one with state-certified driving instructors who are passionate about ensuring that all of our students have a positive experience as they learn how to drive. We understand that driving for the first time can be intimidating, which is why our expert instructors work hard to create a motivating learning environment that boosts both competency and confidence behind the wheel. Parents and students can both feel assured knowing that every driving instructor we hire is highly trained to demonstrate and teach the gold standard of safe-driving practices. For further peace of mind, all of the driving lessons take place in our DriveSafe cars that are equipped with ample safety features. 
When it comes to searching for driving lessons for teenagers, there is not a one-size-fits-all approach. Some students may need more time with a professional driving instructor due to their skill development, and some require more driving lessons because their parents can't easily help them log the 50 hours of behind-the-wheel practice required by the Colorado DMV. 

Regardless of what your unique situation looks like, we offer a variety of behind-the-wheel training packages that can accommodate your needs.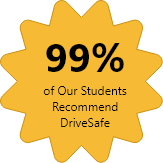 Behind-the-Wheel Training Six

$424
6-Hour Driving Course
Behind-the-Wheel Training Progress Tracker
DriveSafe for Life Guarantee™
Behind-the-Wheel Training Six Plus Drive Test

$499
6-Hour Driving Course
Drivers License Test
Behind-the-Wheel
Progress Tracker
DriveSafe for Life Guarantee™
Recommended


Behind-the-Wheel Training Safe Driver
$699
6-Hour Driving Course
Drivers License Test
3-Hour Defensive Skills Day
Behind-the-Wheel Training
Progress Tracker
DriveSafe for Life Guarantee™
Behind-the-Wheel Training 50 Plus Drive Test

$3299
6-Hour Driving Course
Drivers License Test
44 Additional Hours of Driving Lessons
Behind-the-Wheel Training Progress Tracker
DriveSafe for Life Guarantee™
Does DriveSafe Offer Private Driving Lessons Near Me?
It is our goal to make scheduling your behind-the-wheel training as convenient and flexible as possible. If you're looking for private driving lessons near you, DriveSafe has centers located all throughout the Denver-Metro area, and we also offer one-on-one driving lessons seven days of the week. Visit our locations page to find the closest DriveSafe center near you!
Drivesafe students attend










It was a great class that my son was able to take online. All of the in-person driving lessons were taught by professional people who were able to relate to my teenager.
Debra P, Littleton/Lakewood

This was an easy process, good instruction and worth the price. Even with the challenges of 2020 and the pandemic, our daughter is right on track to get her license and be a great/safe driver.
Very compassionate and patient. The instructor explained exactly what was to be expected before my son even got into the car. This was a great experience for my kiddo who has anxiety.
Everything was easy. Communication, scheduling, rescheduling. The lessons were great – my daughter learned a lot! A very good experience!
The driving instructor was very clear and helpful with his tips and explanations. I did not feel berated because I was being given constructive criticism that I could understand.
I really loved that we worked on the things that I wanted to work on. This was an issue I had at my other driving school, so it was amazing to drive on busy roads and the highway. He did an amazing job of pushing me out of my comfort zone and teaching so many techniques. Overall, it was an amazing lesson and experience.
Tiffany, Greenwood Village

Not only was my driving instructor helpful, but I had an important driving related question, and the manager who was at the front desk took the time to be extremely helpful and thorough as well. Both of them were so kind and professional.
Our son doesn't like many activities outside of his comfort zone. This was his first day driving and the instructor made him feel confident and empowered. He got him to laugh.
The instructor was incredibly knowledgeable, clear in explaining the process, assisted in an unexpected situation, and alleviated stress for our daughter. The whole experience was fantastic!
We had an awesome, friendly, and kind instructor who was very understanding with the language barrier. Made the experience a lot better than we were expecting. Highly satisfied.
Johnny K, Highlands Ranch

Just a great experience all around. My son had a great instructor fir his last drive out of this location and the test today was hassle free. My experience has been great and worth what we spent.
The staff are friendly, welcoming, and patient to their students. I could tell that they were not only there for work but truly had a passion to help students learn how to drive safely.
My daughter enjoyed all her driving experiences and learned so much in the classes!
DriveSafe made everything easy! They had great communication and were always available to answer our questions. Everyone my daughter drove with made her feel comfortable and more confident in her driving.
Very good experience. Trainers are experienced and polite. Provided comfortable and calm learning experience.
Tara V, Littleton/Lakewood

Awesome driving teacher and my son enjoyed the information she shared and the tips she gave him as well. Professional and friendly- we would recommend for sure!
"My son has enjoyed both of his driving instructors so much. He's not the type to speak up like this, but he said both instructors made him feel comfortable while teaching him so much. He gained much confidence. He said the classroom teacher was great as well!"
"Very comfortable. Easy to understand. Also walked me through my mistakes and how to avoid them. I felt like I was driving with a friend, no nerves or frustrations. Fun route as well."
The instructor was amazing and made my daughter feel so comfortable. She even talked about how much she loves her job. Doesn't get better than that!
Kristin A, Littleton/Lakewood

We have had a great experience with both of my sons.
Driving Lessons for Teenagers and Adults: What Our Behind-the-Wheel Training Courses Include
Highly trained, state-certified driving instructors who are passionate about helping students develop the skills to be safe drivers for life.

The DriveSafe for Life System™ - An instructional method that focuses on building confidence and teaching safe driving habits in a positive and encouraging manner.

One-on-one driving lessons that are tailored to the needs of each individual student and designed to build a foundation of safe driving habits.

Highly trained, state-certified instructors who are passionate about helping students develop the skills to be safe drivers for life.

The Behind-the-Wheel Progress Tracker™, a convenient online tool that enables students to check progress in the ten key skills required to be a safe driver.

The DriveSafe for Life Guarantee™, which enables students to schedule a meeting with a driving instructor at any time, for any reason, forever.

The Parent/Student Portal, which gives families the convenience of scheduling classes and driving lessons online.