Behind-the-Wheel Safe Driver
Enhance your Driving Skills with 6 Hours of
Lessons plus Defensive Skills Day




140,000
Students Expertly
Trained

BEHIND-THE-WHEEL SAFE DRIVER
The Behind-the-Wheel Safe Driver program meets all state requirements for professional behind-the-wheel instruction and includes our 5-hour Defensive Skills Day, as well as the official License Test.  Our behind-the-wheel lessons feature personalized one-on-one instruction, which will help you develop the skills necessary to become a safe driver for life. As you gain experience, your highly trained, state-certified instructor will add speed and complexity to your lessons and give you the opportunity to practice in a variety of driving environments. During Defensive Skills Day, you will learn potentially life-saving skills, including skid control and defensive driving maneuvers, and experience the risks of distracted driving first-hand. Finally, when you are ready, you can take your Drivers License test at DriveSafe and avoid the stress and hassle of taking your test at the DMV. For the ultimate in Behind-the-Wheel Training, upgrade to the Behind-the-Wheel 50 Hours Practice Plus Drive Test!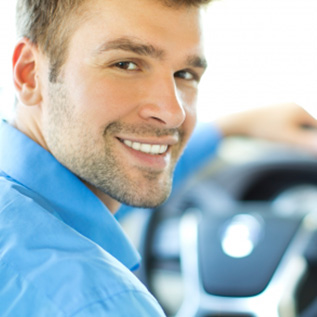 Kristin A, Littleton/Lakewood


We have had a great experience with both of my sons.


Everyone is kind, patient and knowledgeable. My son has significant anxiety, but did great with the first 2 hour drive time. He said he learned a lot and is excited for his second one.


Excellent teachers! My daughter had a very good experience with honest feedback and good tips to improve driving skills. Easy to set up appointments with reminder texts.


My daughter's instructor tuned into to my daughter's need to develop more confidence driving in an urban environment. She came away feeling a lot more confident! Her instructor had great intuition and a really kind approach!


Courteous, professional staff that make the new driver and parent comfortable with the entire experience. Excellent at providing feedback and things to work on for the next drive lesson.
Tiffany, Greenwood Village


Not only was my driving instructor helpful, but I had an important driving related question, and the manager who was at the front desk took the time to be extremely helpful and thorough as well. Both of them were so kind and professional.


Everything was easy. Communication, scheduling, rescheduling. The lessons were great – my daughter learned a lot! A very good experience!


DriveSafe made everything easy! They had great communication and were always available to answer our questions. Everyone my daughter drove with made her feel comfortable and more confident in her driving.
Tara V, Littleton/Lakewood


Awesome driving teacher and my son enjoyed the information she shared and the tips she gave him as well. Professional and friendly- we would recommend for sure!


Professional, informed, efficient and kind staff.
READY TO START YOUR DRIVERS EDUCATION?