A low stress way to determine whether you have the
skills and ability to pass your driver's license test




140,000
Students Expertly
Trained

The Practice Drive Test is a great way to determine whether an eligible driver has the skills and ability to pass the Colorado Driver's License Test. This is a great option for:
Teens who are not sure whether they are ready to take their license test.
Individuals who struggle with test anxiety or lack confidence in their driving skills.
Adults who have not had their driving skills assessed for some time.
Those who wish to improve their likelihood of passing their license test on their first (or next) attempt.
The practice drive test consists of a 20-minute drive that simulates the conditions of an actual driver's license test. Your driving instructor will ask you to perform a series of driving maneuvers including merging into traffic, right and left turns, stops, lane changes and more. The instructor will assess your steering technique, vehicle control, and speed management among other skills.
Following the test, your instructor will give you feedback on those driving skills where you have demonstrated mastery, which ones require additional practice, and whether you are prepared to take your license test. The assessment is based solely on what the instructor observes during the Practice Drive Test, and therefore cannot serve as a guarantee that you will pass your license test.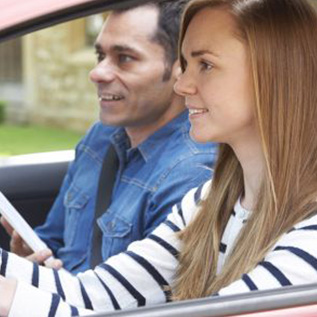 The license process for a teenage kid is daunting, but DriveSafe made the experience a rather seamless transition.


We are on our third teen going through your driving school courses and have been so impressed each time. Even during the Covid Pandemic, my daughter has been able to complete everything online and the communication and ease of scheduling is great. Thank you


My daughter attended the Defensive Skills Day and it went well. I got to ride with her at the end when I returned, and I have to admit, I was very shocked at how much she improved! She drove me through the timed obstacle course and her skill level blew me away. She said she has much more confidence in driving now. This course is very well worth the money and I highly recommend it to all parents.


"My instructor has been so patient and supportive and encouraging. I am very thankful for him. I passed the drive test today! And he is so awesome and so kind. So, I just wanted to let you know how amazing he is."


I enjoyed the obstacle course because it involved many different skills…
Maya D., Student, Evergreen


The customer support via phone call was outstanding, and the staff did a wonderful job of answering any questions I or my family may have had. It was a beneficial experience.
READY TO START YOUR DRIVERS EDUCATION?