Refresher Driving Lesson and Drive Test

Take a Refresher Drive Before
Your Test to Make Sure You're Ready




100,000
Students Expertly
Trained

ONE-HOUR DRIVING LESSON AND DRIVE TEST
A One Hour Refresher Driving Lesson with a highly-trained, state-certified instructor will help bring you up to speed on all the driving laws you may have forgotten or overlooked. Then you will be ready to take your Official Drivers License Test with DriveSafe.*  With flexible weekend and weekday appointments available, we can schedule your drive test at a time that works for you. Our students and the public love the option of testing with us because it is friendlier, faster, and less stressful than testing at the DMV. Because the License Test evaluates more than 100 items, you may choose to upgrade to Behind-the-Wheel Two Plus Drive Test to add an additional hour of preparation.  
* All Drive Tests take place in DriveSafe vehicles except for interlock tests.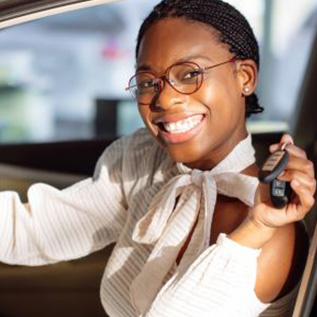 The instructor was friendly, energetic, easy-going yet very firm and mindful about road rules. My son enjoyed his 2-hour drive!
Very compassionate and patient. The instructor explained exactly what was to be expected before my son even got into the car. This was a great experience for my kiddo who has anxiety.
Jacob W, Littleton/Lakewood

DMV was so slow in processing our son's driver license application that we got down to two days before he was supposed to move to college and then they told us he needed to do a drive test. We called DriveSafe and they got him scheduled for the following day. They were very nice and helpful, he passed, and now he's off to his college adventure. Thanks DriveSafe!
Charles N, Highlands Ranch

It was great to have my daughter learn the right way to drive. I have sent my 2 kids to DriveSafe, and I am very happy I did!
Tiffany, Greenwood Village

Not only was my driving instructor helpful, but I had an important driving related question, and the manager who was at the front desk took the time to be extremely helpful and thorough as well. Both of them were so kind and professional.
Everything was easy. Communication, scheduling, rescheduling. The lessons were great – my daughter learned a lot! A very good experience!
My experience with the driver instructor was overwhelming and well trained. I completely recommend DriveSafe Driving School!
My son's first driving experience with an instructor had him really nervous, but DriveSafe Wheat Ridge was kind, reassuring and supportive! He is looking forward to his next lesson!
It was my first comfortable experience driving outside of my comfort zone! The instructor was extremely kind and understanding while pushing me to do more than I thought I could!
Parent, Greenwood Village

"My daughter was very afraid to drive, but once she had a lesson with her instructor it made all the difference! She gave her easy strategies to boost her skills and her confidence."
Very good experience. Trainers are experienced and polite. Provided comfortable and calm learning experience.
Tracy B, Greenwood Village

I've had 3 kids go through DriveSafe, and all have had a great experience. There is always someone that answers the phone when you call with questions, the classes are straightforward and concise, the driving sessions are beneficial, and my kids liked all of the drivers they had. I like how DriveSafe transfers all the students information to the DMV…very helpful.
My daughter enjoyed all her driving experiences and learned so much in the classes!
My kids were extremely anxious and were pleased with how everything went. They look forward to hitting the streets with more confidence.
Before our 1:1 lesson my daughter had a true fear of driving. She drove for 2 hours, and the instructor gave her the confidence she needed to get behind the wheel more often.
The instructors were amazing! They were able to teach my son things that I'm not very good at doing… Like parallel parking! My son was nervous to be stuck in a car for 2 hours with the instructors but each time when he finished his drives he was so excited to tell me everything he had learned! It was well worth the money spent!
Mitchell F, Littleton/Lakewood

The ease with the staff as a parent to navigate through this process. Also, the instructors make my daughter feel very comfortable.
The staff are friendly, welcoming, and patient to their students. I could tell that they were not only there for work but truly had a passion to help students learn how to drive safely.
DriveSafe made everything easy! They had great communication and were always available to answer our questions. Everyone my daughter drove with made her feel comfortable and more confident in her driving.
Our son doesn't like many activities outside of his comfort zone. This was his first day driving and the instructor made him feel confident and empowered. He got him to laugh.
READY TO START YOUR DRIVERS EDUCATION?
Drivers License Test – ONE-HOUR DRIVING LESSON AND DRIVE TEST
159
default
default
default
43
https://www.drivesafecolorado.com/enroll/add-to-cart-page-do-not-edit.html?pPageEnrollProductID=43
global-field
post_title
custom-field
DriveSafe Driving Schools
global-field
featured_img
global-field
post_permalink
global-field
post_content
custom-field
custom-field
custom-field
InStock
custom-field
global-field
price
custom-field
USD
custom-field
5
custom-field
{"@context":"https:\/\/schema.org","@type":"Product","name":"Drivers License Test - ONE-HOUR DRIVING LESSON AND DRIVE TEST","brand":{"@type":"Thing","name":"DriveSafe Driving Schools"},"aggregateRating":{"@type":"AggregateRating","ratingValue":"5"},"offers":{"@type":"Offer","price":"159","url":"https:\/\/www.drivesafecolorado.com\/packages\/drivers-license-test-one-hour-driving-lesson-and-drive-test","priceCurrency":"USD","availability":"InStock"}}