Refresher Driving Lesson and Drive Test
Take a Refresher Drive Before
Your Test to Make Sure You're Ready




140,000
Students Expertly
Trained

ONE-HOUR DRIVING LESSON AND DRIVE TEST
A One Hour Refresher Driving Lesson with a highly-trained, state-certified instructor will help bring you up to speed on all the driving laws you may have forgotten or overlooked. Then you will be ready to take your Official Drivers License Test with DriveSafe.*  With flexible weekend and weekday appointments available, we can schedule your drive test at a time that works for you. Our students and the public love the option of testing with us because it is friendlier, faster, and less stressful than testing at the DMV. Because the License Test evaluates more than 100 items, you may choose to upgrade to Behind-the-Wheel Two Plus Drive Test to add an additional hour of preparation.  
* All Drive Tests take place in DriveSafe vehicles except for interlock tests.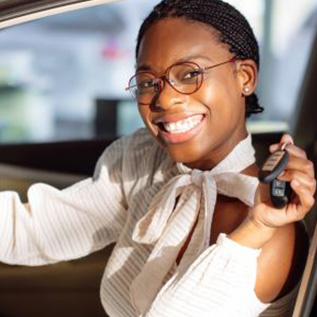 The instructor was very detailed and thorough. I appreciated that he told my daughter what she did well along with a couple of things for her to work on.


"I feel so much more comfortable behind the wheel. I also have become less afraid and have come to realize that drivers on the road have every right to take it safe and slow."


I am confident that they are preparing my teen to be a safe driver!


The instructor was incredibly knowledgeable, clear in explaining the process, assisted in an unexpected situation, and alleviated stress for our daughter. The whole experience was fantastic!


Driving instructor did an amazing job. Above and beyond. Exceeded my expectations and made my son's driving experience exceptional!


The instructors were amazing! They were able to teach my son things that I'm not very good at doing… Like parallel parking! My son was nervous to be stuck in a car for 2 hours with the instructors but each time when he finished his drives he was so excited to tell me everything he had learned! It was well worth the money spent!
READY TO START YOUR DRIVERS EDUCATION?
Drivers License Test – ONE-HOUR DRIVING LESSON AND DRIVE TEST
179
43
https://www.drivesafecolorado.com/enroll/add-to-cart-page-do-not-edit.html?pPageEnrollProductID=43
{"@context":"https://schema.org","@type":"Product","name":"Drivers License Test - ONE-HOUR DRIVING LESSON AND DRIVE TEST","brand":{"@type":"Organization","name":"DriveSafe Driving Schools"},"aggregateRating":{"@type":"AggregateRating","ratingValue":"5"},"offers":{"@type":"Offer","price":"0","url":"https://www.drivesafecolorado.com/packages/drivers-license-test-one-hour-driving-lesson-and-drive-test","priceCurrency":"USD"}}