Expanded Driver Awareness
and Driving Lesson

Intensive Classroom Plus
Behind-the-Wheel Training for Older Teens




140,000
Students Expertly
Trained

EXPANDED DRIVER AWARENESS AND DRIVING LESSON
The Expanded Driver Awareness and Driving Lesson program is available to students who are 15-1/2 and older who want to qualify for their permit and receive some Behind-the-Wheel Training. It includes four hours of intensive classroom instruction, the written permit test, and a two-hour driving lesson. The class is designed to engage students through interactive learning as we help them become safe decision-makers. The driving lessons are taught by highly trained, state-certified instructors and are focused on teaching the 10 key skills required to be a safe driver. While this program contains abbreviated lessons taught in our 30-hour classroom course, it should not be considered the equivalent of our comprehensive programs and may not qualify for insurance discounts.  Upgrade to Expanded Driver Awareness Plus for Six Hours of Driving Lessons, and Save!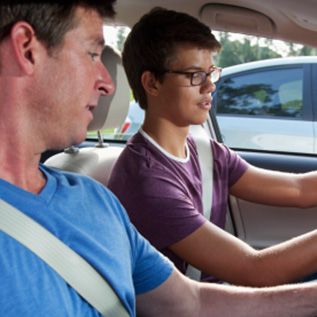 My instructor was very nice and friendly. he was also a great teacher.
Beckett, Greenwood Village


The commentators and the overall welcoming atmosphere of the course was nice. Also the layout is easy to use. I recommend this course.


The staff are friendly, welcoming, and patient to their students. I could tell that they were not only there for work but truly had a passion to help students learn how to drive safely.


Website was easy to schedule drives, but when I had questions, someone always answered the phone and was eager to help.


In comparison to the one my son took beDrivingAmerica was a lot better. My daughter enjoyed and really understood this more. Very great online class. I would recommend this to anyone.


I have received such great service over the past year and 3 months, from driver's ed, permit test, instructor drives and license test drive! THANK YOU!!!


I really enjoyed the course. I felt like it was very easy to go through all the chapters, videos, pages, etc. I thought the review was really helpful at the end of each chapter.


The instructor was friendly, energetic, easy-going yet very firm and mindful about road rules. My son enjoyed his 2-hour drive!


"Great service and overall experience! I feel much more comfortable on the road and they really try to get you to try new things so that you will be prepared when you're on the road alone. Definitely go to DriveSafe!"


I felt there was great communication between the instructor and myself and the instructor and my daughter. It is great to have a place that I can trust to help out with this huge endeavor! So helpful to have an outside person (aka not a parent).
READY TO START YOUR DRIVERS EDUCATION?