A low stress way to determine whether you have the
skills and ability to pass your driver's license test




140,000
Students Expertly
Trained

The Practice Drive Test is a great way to determine whether an eligible driver has the skills and ability to pass the Colorado Driver's License Test. This is a great option for:
Teens who are not sure whether they are ready to take their license test.
Individuals who struggle with test anxiety or lack confidence in their driving skills.
Adults who have not had their driving skills assessed for some time.
Those who wish to improve their likelihood of passing their license test on their first (or next) attempt.
The practice drive test consists of a 20-minute drive that simulates the conditions of an actual driver's license test. Your driving instructor will ask you to perform a series of driving maneuvers including merging into traffic, right and left turns, stops, lane changes and more. The instructor will assess your steering technique, vehicle control, and speed management among other skills.
Following the test, your instructor will give you feedback on those driving skills where you have demonstrated mastery, which ones require additional practice, and whether you are prepared to take your license test. The assessment is based solely on what the instructor observes during the Practice Drive Test, and therefore cannot serve as a guarantee that you will pass your license test.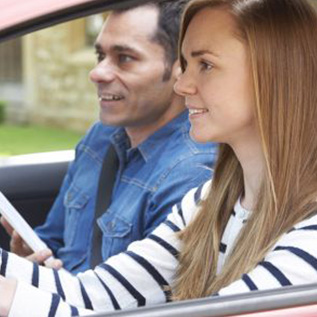 Kristin A, Littleton/Lakewood


We have had a great experience with both of my sons.


"My son has enjoyed both of his driving instructors so much. He's not the type to speak up like this, but he said both instructors made him feel comfortable while teaching him so much. He gained much confidence. He said the classroom teacher was great as well!"


"The SE Aurora team is a heaven sent life saver. I was pulling my hair out before I talked to them. I want to say thank you for all of your help you gave me today."


The license process for a teenage kid is daunting, but DriveSafe made the experience a rather seamless transition.


My daughter rode with Paul today. She was very nervous about the drive and he helped her settle down quickly and have a good experience. Your entire staff is wonderful and we've had a great experience with every part of the process.


My daughter loved it and was excited to go every day! She said the teachers were funny. Sometimes the other kids were silly, but the teachers handled them well.


"I had a wonderful experience with your program. I was impressed by the professionalism of your program and of your staff. My instructor was marvelous in guiding me to get a driver's license. His calm and professional demeanor made this possible for me!"


Everything was easy. Communication, scheduling, rescheduling. The lessons were great – my daughter learned a lot! A very good experience!


I am confident that they are preparing my teen to be a safe driver!


The gentleman who tested my daughter was kind, and really put my daughter at ease. She passed, and came back so happy that he was kind and easily approachable. She was having a lot of anxiety and he put her nerves to ease.
READY TO START YOUR DRIVERS EDUCATION?