Here's to your next Milestone…
Start your driver's education as early as 14 ½ and get on the path to become a safe driver for life!




140,000
Students Expertly
Trained



"The drive instructor did an amazing job. My daughter is still talking about the things she learned during her two-hour driving session even several days after the drive. She was very apprehensive going into it and returned full of confidence."


"The overall experience from classes to staff members was fabulous! The defensive skills day was incredible too! I believe my teenage driver has been given the knowledge and shown the techniques to be as safe as possible while driving."
Choose from several comprehensive drivers education courses
Learning how to drive is a life-changing milestone, and most teenagers can't wait for the day that they are able to take over the driver's seat. It's one of the most anticipated coming-of-age privileges, but it's also a big responsibility. This sentiment often causes parents to feel a natural mix of excitement and hesitation when their teenagers are old enough to begin drivers education. 

Here at DriveSafe, we fully appreciate the vote of confidence that parents give us by entrusting us to teach their sons and daughters this important life skill. We do everything that we can to be worthy of this trust by exceeding the Colorado DMV's drivers ed requirements, teaching and modeling only the safest driving practices, and building a supportive, student-focused learning environment. 

We are happy to offer a variety of drivers ed courses that can accommodate various budgets and schedules. Between our Basic, Plus, Safe Driver, and Premium Safe Driver packages, you will be able to find the drivers ed class that is right for your unique needs.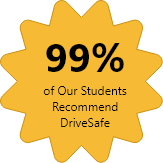 be.Driving Basic Drivers Education

$599.00
30-Hour Drivers Ed Course
Written Permit Test
6-Hours of Driving Lessons
Insurance Discounts May Apply
DriveSafe for Life GuaranteeTM
DriveSafe is Colorado's largest and most trusted driving school, and our locations can be found all throughout the Denver-Metro area. We also frequently offer driving courses at satellite locations to serve more of Colorado's aspiring drivers. To find a DriveSafe center near you, you can visit our locations page.
If you're interested in convenient driving courses that can be completed anytime and anywhere, you can learn more about our self-paced online options here. 
Does DriveSafe Offer Drivers Education Near Me?