Adult Driving Lessons Denver, CO
It's Never Too Late to Learn to Drive Safe!
About Our Adult Driving Lessons
All of our driving lessons are conducted one-on-one with state-certified driving instructors. We understand that a driving test can be intimidating, so our expert driving school instructors work hard to create a motivating learning environment that boosts both competency and confidence behind the wheel. 
All of our driving instructors are highly trained to demonstrate and teach the state standard of safe driving practices. For further peace of mind, all the driving lessons take place in our DriveSafe cars equipped with ample safety features. 
WHAT OUR ADULT DRIVING LESSONS INCLUDE:
One-on-one behind-the-wheel lessons designed to build a foundation of safe driving habits and are tailored to the driver education needs of each individual student
Highly trained, state-certified instructors who are passionate about helping students develop the skills to be safe drivers for life.
The Behind-the-Wheel Progress Tracker™, a convenient online tool that enables students to check progress in the ten key skills required to be a safe driver.
The DriveSafe for Life Guarantee™, which enables students to schedule a meeting with a driving instructor at any time, for any reason, forever.
Student Portal, which gives families the convenience of scheduling classes, online courses, driving lessons, and testing services online.
When it comes to searching for driving lessons for adults, there is no one-size-fits-all approach. Some driving school students, such as new drivers, may need more time with a professional driving instructor, so our driving school offers 6, 10, and 20-hour behind-the-wheel driving courses to give multiple options to fit your needs. Additionally, DriveSafe Driving Schools offer 1 or 2-hour refresher courses, or we can focus on the driving skills you wish to improve, such as parallel parking or freeway driving. 
Explore your age requirements and our driving lesson programs below, or contact us with any questions, to learn which driving school program is the right fit for you! 
WHAT ARE THE REQUIREMENTS FOR DRIVING LESSONS IN COLORADO? 
If you are under the age of 16 ½ you will need to complete 6 Hours of Behind-the-Wheel training with a state-certified driving instructor in order to be eligible to take your driver's license test. If you are older than 16 ½, there is no state on-the-road training requirement. 
Additionally, if you are under the age of 18 you'll need to log 50 hours of driving time (at least 10 hours at night) with a legal guardian, to meet the driving log requirements while holding your instruction permit for a full year. 
To view the list of driving lessons and driving time requirements for your age group before taking your road and written tests, read the DMV policies here.
PROFESSIONAL DRIVING LESSON PROGRAMS & DRIVING TESTS
The Behind-the-Wheel Six program meets state requirements for behind-the-wheel instruction and is designed to help you obtain your driver's license and become a safe driver for life. 
During your one-on-one lessons, your highly trained, state-certified instructor will help you hone your skills and build safe driving habits in a positive and supportive environment. Your driver training lessons will focus on helping you develop the 10 key skills required for road safety. As your skills improve during the six hours of instruction, your instructors will add speed and complexity to your lessons. Lessons from DriveSafe Driving Schools are available seven days a week, and scheduling them is easy.
If you'd like your driving school program to include the drivers license test, upgrade to our Behind-the-Wheel Six Plus Drive Test program below: 
BEHIND-THE-WHEEL SIX PLUS DRIVE TEST
The Behind-the-Wheel Six Plus Drive Test program is an easy and convenient way to meet state requirements for your behind-the-wheel driver training and take your official license test. During your one-on-one lessons with a highly trained, state-certified instructor, you will develop 10 key skills required to be a safe driver. In a safe and supportive environment, instructors will increase the speed and complexity of your lessons as your skills improve. Lessons are available seven days a week, and scheduling them is easy. Once you have held your permit for a full 12 months, you will ease the stress of your official license test by taking it with DriveSafe. 
Not sure if six hours of instruction is enough? Check out our Behind-The-Wheel 10 hours package below: 
BEHIND-THE-WHEEL 20 HOURS
The Behind-the-Wheel 20 Plus Drive Test program is the ultimate in Behind-the-Wheel Training. Whether you have a busy life schedule and need help meeting the driving log requirements, or just need the guidance of a professional driving instructor, our driver education program has you covered. This 20-hour Behind-the-Wheel training not only prepares students to be safe drivers but also meets driving log requirements to qualify for a Drivers License. This package is great for students whose guardians have demanding schedules and need support in meeting their driving log requirements.
Every driving lesson is personalized to the needs of the student. As students gain experience and confidence, our state-certified expert instructors add speed and complexity to the lessons and give students the opportunity to practice in a variety of driving environments. Eliminate the stress of the drivers education experience and let DriveSafe's experts cultivate a lifetime of safe driving habits.
1- Hour Drivers Refresher Course + License Test 
Take a One-Hour Refresher Driving Lesson with a highly-trained, state-certified instructor to help bring you up to speed on all the driving laws you may have forgotten or overlooked. This can help boost your confidence and prepare you for your Official Drivers License Test with DriveSafe. 
With flexible weekend and weekday appointments available, we can schedule your drive test whenever works for you. Our students love the option of testing with DriveSafe because it is friendlier, faster, and less stressful than testing at the DMV (when they still offered driving tests). 
Because the Drivers License Test evaluates more than 100 items, you may consider upgrading to Behind-the-Wheel Two Plus Drive Test to add an additional hour of preparation. Read more on that below: 
2-Hour Full Driving Lesson + Driver's License Test
A Two-Hour Driving Lesson is a productive and sensible way to prepare for your Drivers License Test.  
Your highly-trained, state-certified instructor will focus on the skills you need to be a safe driver and pass your official driving test with DriveSafe.  
Our driving school's normal business hours are open for weekday and weekend appointments for driving tests, so you can schedule a time that is best for you.
The driving test evaluates over 100 items that measure your skill and knowledge of legal and safe driving practices. With this 2-hour lesson, we'll cover practical driving skills and abilities and a thorough review of safe driving habits, all of which will help you become a safe driver and successfully pass your test to receive your drivers license.
HOW MUCH DOES IT COST TO TAKE DRIVING LESSONS AT A DRIVING SCHOOL? 
Driving lessons vary in cost because every student's driver education journey differs. Many students require professional instruction and additional practice to fully develop their confidence and safety habits behind the wheel, and may even wish to add defensive driving training for car insurance discounts. For others, meeting their minimal training requirements and practicing outside of a driving school with a legal guardian on their own drive time is enough. Wherever you fall on the spectrum, you are worth the time and investment it takes to achieve your driving goals and pass your written and road tests, whichever program you deem the right path for you. 
Recommended

99.2% of our students recommend DriveSafe

BEHIND-THE-WHEEL
SIX
BEHIND-THE-WHEEL
SIX PLUS DRIVE TEST
BEHIND-THE-WHEEL
10 HOURS
BEHIND-THE-WHEEL
20 HOURS
$549.00
$649.00
$849.00
$1699.00

Six Hours of Behind-the-Wheel Instruction

Drivers License Test

4 Additional Hours of Driving Lessons

14 Additional Hours of Driving Lessons

Behind-the-Wheel Progress Tracker

DriveSafe for Life Guarantee™

PRACTICE DRIVE TEST

SAFETY EVALUATION

ONE HOUR SPECIAL FOCUS DRIVE

TWO-HOUR DRIVING LESSON

OTHER BEHIND-THE-WHEEL OPTIONS

$89.00
$299.00
$119.00
$195.00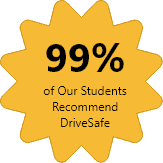 Behind-the-Wheel Six

$549.00

Six Hours of Behind-the-Wheel Instruction

Behind-the-Wheel Progress Tracker

DriveSafe for Life Guarantee™
Behind-the-Wheel Six Plus Drive Test

$649.00

Six Hours of Behind-the-Wheel Instruction

Drivers License Test

Behind-the-Wheel Progress Tracker

DriveSafe for Life Guarantee™
Recommended


Behind-the-Wheel 10 Hours
$849.00

Six Hours of Behind-the-Wheel Instruction

4 Additional Hours of Driving Lessons

Behind-the-Wheel Progress Tracker

DriveSafe for Life Guarantee™
Behind-the-Wheel 20 Hours

$1699.00

Six Hours of Behind-the-Wheel Instruction

14 Additional Hours of Driving Lessons

Behind-the-Wheel Progress Tracker

DriveSafe for Life Guarantee™